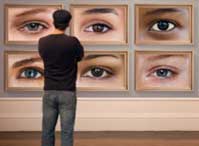 Real Life Patients Before & After Surgery Photos
External beauty is a reflection of how we look and feel. Isn't it time to love the way you look?
Dr. Michelle Yagoda is one of the best and most respected female facial plastic surgeons in New York, NYC, and Manhattan. If you want unsurpassed attention to detail and inimitable results, choose Dr. Yagoda for the best plastic surgery results in New York City.
Check back to our cosmetic plastic surgery photo gallery often … for the latest "Before and After" images of New York Plastic Surgery success stories! And, read our patient testimonials…
The nose's position at the front and center of the face is a fitting tribute to its importance. When it comes to appearance, many people are dissatisfied with the size and/or shape of their nose. As a result, more than a half million people per year will consult a facial plastic surgeon regarding nasal cosmetic surgery, or nose jobs. As both a facial plastic surgeon and otolaryngologist, Dr. Yagoda considers the structure of the nose as well as its function. She notes ethnicity and individual style to establish harmonious proportions and balance among the facial features, creating a look that's both individual and completely natural-looking. She never loses sight of the functional aspects of this critical organ. While improving the aesthetics of the nose, she also preserves or even improves its functional efficiency.
It's almost impossible to overstate the functional and aesthetic importance of our eyes. When we look out at the world, we see it with our eyes. And when the world looks back at us, our eyes are often what get noticed first. They are also the single most noted physical feature on dates and first meetings. A whopping 80% of those surveyed say that eyes—not hair, teeth, or lips—were what they noticed first upon meeting someone new. As a result of this focus, rejuvenation of the eye area either with a blepharoplasty or an eyelid lift, can provide a sensational aesthetic benefit.
Asian eyelids may be missing the upper eyelid crease. In order to create a more Western appearance, many methods are available to create that crease, called a "double eyelid," although most entail incisions into the eyelid skin. This can present a problem because Asian skin, like African-American skin, Hispanic, and Mediterranean skin, has a recognized increased risk of poor healing with thickening or widening of the scars. Therefore, a technique that doesn't use an incision can be preferable. More than ten years ago, Dr. Yagoda was invited to the prestigious Otsuka Academy in Tokyo, Japan to operate with the late, expert surgeon Dr. Hidetada Ishii. There she became proficient in this suture technique that creates an eyelid crease without incisions.
A facelift, whether full or partial, is often your best option to reduce sagging, slack, or jowly skin. This is especially true if your primary areas of concern are the lower third of your face and the neck. Just to be clear, today's facelift is nothing like those too-tight, obvious procedures that were once the norm. When properly performed, a facelift is completely natural looking, giving you a more youthful and rested appearance. Sophisticated plastic surgeons no longer just stretch the skin taut and call it a day. Instead, we aim to restore youthful tone, texture, and volume, augmenting the surgery with skin resurfacing treatments and injectables for a far more satisfying result.
As humorist Nora Ephron, author of I Feel Bad About My Neck memorably wrote, "Our faces are lies and our necks are the truth. You have to cut open a redwood tree to see how old it is, but you wouldn't if it had a neck." The neck houses the throat, the voice, and the thyroid—which perform some of the most important functions in the human body. But aesthetically, it's also a source of frustration, revealing age that's more easily hidden in the face. Dr. Yagoda can reduce your jowls, tighten and lift your neck with a necklift, and improve your profile sometimes even without incisions.
Determining exactly why a chin doesn't fit someone's face can be a puzzle. Chins can be too prominent, too recessive, too pointy, too wide, or some combination of these. In fact, because chins are such an integral part of facial balance, they're often modified in conjunction with other procedures, such as rhinoplasty and facelift. Your chin is essential to the aesthetic balance of your face. Men and women alike find that the chin's shape and size can influence how masculine or feminine they feel. Men are more likely to seek chin augmentation with chin implants than women because a "weak chin" makes them feel less powerful. Dr. Yagoda can give you the profile you've always wanted and take care of anything else you'd like to change about your chin.
Dimples are typically found on the cheeks or on the chin. Whether you want to create or eliminate cheek dimples, the surgical procedure is relatively simple and can be performed in Dr. Yagoda's office under local anesthesia.
Facial liposuction removes localized deposits of fat along the jaw and under the chin. It's an excellent treatment for removing jowls and double chins or giving a "chubby face" a more angular appearance.

The forehead and brow area takes up a lot of facial real estate, comprising most of the upper third of your face. Genetic predisposition, extreme animation, and age can cause the brow to start to lose its youthful smoothness. You might start to see increasingly deep horizontal furrows and vertical "11" lines between the eyebrows. These can cause you to look angry or worried, even when you're not. The brow itself begins to droop. And as the forehead skin sags, the upper eyelids can take on a hooded look. Brow lift surgery can permanently raise the brow and erase lines that connote angst and despair.

For most of us, ears are a functional feature useful for tuning in our favorite songs, carrying on a conversation, and keeping sunglasses securely in place. As for aesthetic appeal, well, they look lovely with earrings. We don't really pay much attention to our ears unless something is wrong with them, in which case, they become an obsession, throwing your life off balance—sometimes literally. When ears are too big, too small, protruding or misshapen, or when ear lobes are torn, Dr. Yagoda can fix them with an otoplasty.

If ever there was a body part that combined purpose and pleasure, it's the lips. We use them to articulate sound, to help us eat food and swallow drink, to show our emotions, and to kiss. Packed with nerve endings, they're powerfully erogenous. They even broadcast our sexual appeal. Whether you'd like fuller lips (lip augmentation), thinner lips (lip reduction), upturned lips, fewer lip lines, or better symmetry, Dr.Yagoda can give you naturally desirable lips.

Skin that's radiant, smooth, and soft-to-the-touch is certainly a beautiful and desirable feature. But skin is far more than aesthetic adornment. Skin is the body's biggest organ. It provides protection, temperature regulation, sensation, and vitamin D production. It isn't just a barrier separating your physical body from the outside world—it's also the screen displaying the relationship of mind and body.Scar Reduction: A conspicuous scar is radically different from the surrounding skin. It may be raised, depressed, or have a different color or texture than the healthy tissue that surrounds it. Treatments to improve the appearance of scars generally seek to minimize these differences.While no treatment can completely eliminate a scar, topical therapies, injectable treatments, including fillers, IPL (intense pulsed light)/laser therapy, and surgical revision with better wound closure techniques can help the scar blend more with the surrounding skin so it's less obvious and objectionable.

Dr. Yagoda will explain your options for scar revision and help you decide whether this procedure might be of benefit.
Moles: Raised or flat, located on your face, back, chest or shoulders, moles can be a concern. Whether you were born with them or they appeared over time, moles (which physicians call "nevi") aren't always welcome guests on your skin. Reasons for removing them include the aesthetic (not everyone is fortunate enough to have a mole that resembles Cindy Crawford's "beauty mark") and the medical. Skin cancer and MOHs surgery: Skin cancers in certain areas of the face can be more complicated than other skin cancers on the body! They can be deceiving: what looks like a superficial skin cancer might actually be very deep because these seemingly small skin lesions end up deeply invading into the planes of fusion of two facial bones, i.e. the nose with cheek, nose with upper lip, or the nose with the eye. As a result, skin growths that appear to be small can cause significant destruction of the cartilage below it.


Basal Cell Cancer Reconstruction: Mohs micrographic surgery (MMS/MOHS) is a skin-sparing surgical technique used to remove cancerous lesions in certain areas of the face. Although MOHS surgery can be quite time-consuming, it offers the lowest recurrence rate of malignancies and preserves more healthy tissue than other methods. Dr. Yagoda works with the dermatologist specializing in MOHS surgery to ensure complete cancer removal and an inconspicuous cosmetically elegant closure to produce the desired cosmetic result.